GirlSeeksShoe here.
The weather here in London is crazy. It's supposed to be summer, and yet we are sporadically getting thunderstorms and the sort of showers generally attributed to April, interspersed with misleading patches of cerulean sky.
Basically, it won't stop pouring down with rain.
And, as every stylish girl-about-town (or girl-without-car) knows, rainy days call for some serious preventative measures. But that raincoat doesn't have to ruin your look, and those wellies don't need to clash with your skirt. Here are my favourite picks for surviving summer storms; my pocketful of sunshine (WARNING; if you click that link, you will have that song stuck in your head for at least 24 hours):
A classy Radley umbrella. I have to say that these are brilliant quality, and mine hasn't broken in two years (*touch wood*).
A Lulu Guinness Rose Print Umbrella will add some colour to your day, and is bang on trend this season.
The only full length brolly I won was a freebie, but is gorgeous in the summer rain. If you spot an umbrella with soft muted colours, you're on the right track for an elegant look.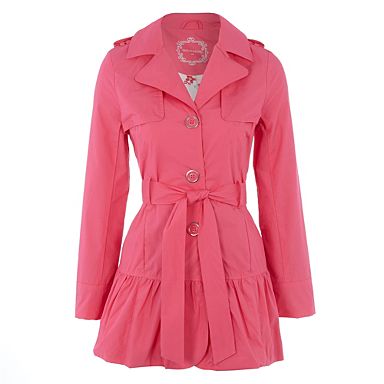 A lovely pink mac from Red Herring at Debenhams is my personal pick for a summer cover-up.
Two gorgeous trenches from Topshop
If you're going to wear wellies, you may as well make a splash (sorry, I couldn't help it…):
Topshop
Both from Office
Land's End
The thing about rain is that sometimes we welcome it and sometimes we just have to live through it. In summer we feel like we are entitled to good weather, and rain is something to sigh about. But it doesn't have to be that way, so here are some songs about rain (real and metaphorical) to lift your mood:
Every cloud has a silver lining.
Oh, it's raining again.
GirlStillSeekingShoe xoxo