GirlSeeksShoe here.
Anyone who has read a few of my previous posts will know that I adore summer. The smell of sunblock, the sound of lawnmowers, watching the tennis at Wimbledon… everything adds up to that holiday feeling. And from a fashion perspective, some trends are just so quintessentially summer; the trends that could only be worn when the sun is shining on your face as you walk down the street, ice-cream in hand. As much as anything else, fashion (and beauty) trends can define that summer sensation… and here are my top five picks of this years summer trends:
5. Bronzer; Giving you a glow even if you haven't yet hit the beach, summer is the only time bronzer is truly acceptable… everyone is entitled to a golden blush when the sun is shining and skin is out. This summer bronzers have got that pared down look to make you look truly luminescent:
MAC Surf, Baby! Bronzing Powder – £19
Benefit Hoola Bronzing Powder – £23.50
4. Wedges; Given a fashion make-over this summer, wedges are no longer the preserve of rushed mothers and grandmothers in jeans. Yes, they're comfortable, but this summer they are also very, very stylish.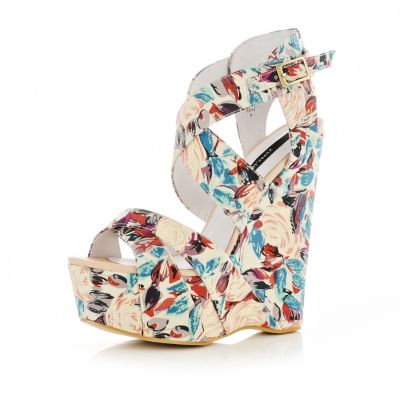 From left to right: New Look £24.99; New Look £10; River Island £69.99
3. Floral Mini-Skirts; Floral in any form is bang-on-trend at the moment, but a teeny-tiny floral skirt can see through summer picnics and barbecues to evening plays and parties. Add a corset top, some wedges and a pastel blazer and you will be the embodiment of style this summer. Alternatively, add some wellies and a leather jacket and you are festival-ready.
From left to right; Forever 21, Forever 21 and New Look
A
A
A
a
a
2. Coloured Trousers/Jeans; I am so in love with this trend right now. Add a pop of colour to your outfit with this sherbet-coloured denim marvels.
And my number 1 favourite trend, this summer and every summer:
CORAL CORAL

CORAL
It suits EVERY skin-tone, comes in a myriad of colours, reminds me of sherbet ice-cream… and it just screams summer. From near-orange, to tangerine, to almost tomato, to pure coral-iscious, the message is clear:
Wear coral, be stylish, love summer.
Benefit CORALista Blush – £23.50
New Look Wedge – £24.99
MAC Surf, Baby! Hibiscus Lipstick
Dior Vernis in Psychedelic Orange
Barry M Nail Polish in Coral
Natalie Portman wears coral
Oscar de la Renta 2011
Oscar de la Renta 2011
Als0, quickly grab this summer's hottest accessory: Matthew Williamson's charity bracelet for Too May Women (who raise money for Breast Cancer Awareness) is now available at Accessorize for £15.
GirlStillSeekingShoe xoxo
Visit www.modlychic.com to check out the other Fashion Beauty Friend's Friday participants' top 5 summer trends!